BRITISH CYPRIOT ANDREAS KOMODIKIS MAKES DEBUT FOR THE CYPRUS UNDER-21'S SQUAD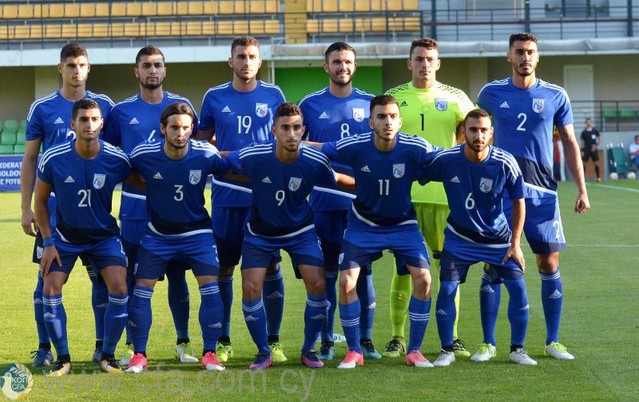 Our very own British Cypriot Andreas Komodikis made his debut for Cyprus Under-21's squad friendly versus Moldova at the Zimbrou Stadium in Chișinău on Wednesday 9th August.
He is pictured above ('21' bottom far-left) of Cyprus starting 11 team, to document his first 'call-up' since signing a three year deal with Cypriot First Division team 'Doxa Katokopias'. Andreas Komodikis is a QPR youth product and began his football career with Omonia Youth and also represented a KOPA League youth representative team when they travelled to Cyprus and played against the Cyprus national side.
The 19-year-old writing on his Twitter page explained how he felt following the end of the match. "What an experience it was… Absolute honour to be given my first international call up and above all to play for my country! Despite the result, it was an unforgettable moment for myself, singing the national anthem and wearing the shirt!!"
The friendly test comes weeks before the UEFA European Under-21 Championship qualifier which eventually starts for Cyprus in September with their first opponents Malta.
The Cypriot team performed well and despite creating a few good chances, they narrowly lost 2-1 thanks to an 'own' goal on 92nd minute.
Both teams enforced attacking football and looked intent to push forward in numbers, creating many chances the Cypriots could even have won on the basis of their solid chances created in the match.
The Moldovan side was in control of possession in the first 15 minutes, taking the game to the visitors. Cyprus gradually eased itself into the game, and indeed constantly improving throughout. This could have opened the scoring. The team had carved out two decent chances around the 20-30 minute mark, with Ioannis Pittas and Konstantinou Soteriou coming close. On the 45th minute, Nikolas Mattheou lost the best chance for the Cypriots. The Moldovan team through Alexandru Boiciuc fired the opening goal however on 46th minute to end the first-half, 1-0 up.
Cyprus equalised to make it 1-1 with a 66th minute goal by Marios Ilias after Ioannis Pittas and Nikolas Mattheou combined well to set-up the attacking play. The home side capitalised on an Andreas Karo 'own goal' to sneak a late winner at the 92nd minute.
The Cyprus Under-21 squad: Andreas Christodoulou, Andreas Karo, Christos Wheeler (80′ Kostas Pilea), Rafael Anastasiou (46′ Marios Andreou), Panayiotis Artymatas, Kyriacos Panayi (46′ Andreas Frangos), Constantinos Sotiriou, Georgios Christodoulou (86′ Sotiris Fiakas), Ioannis Pittas, Andreas Komodikis (46′ Marios Ilias), Nikolas Mattheou (67′ Antonis Koumis)
Here at London Greek Radio we would like to congratulate Andreas Komodikis for his Cypriot debut to the Under-21's and we look forward to seeing his success in the future.
Article written by London Greek Radio