LGR EVENTS PRESENTS A NIGHT WITH REMPETIKA AND LAIKA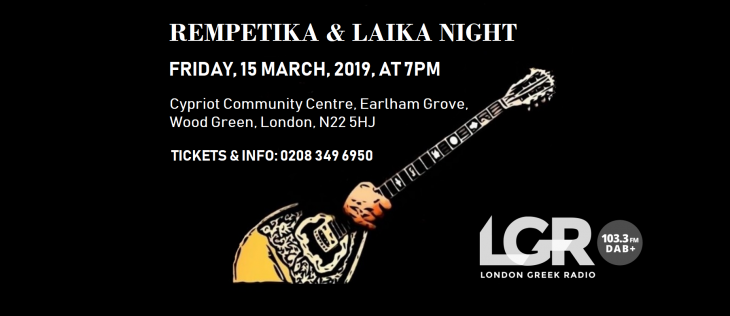 LGR Events Presents A Night with Rempetika and Laika, on Friday 15th March 2019, at the Cypriot Community Centre. The line-up is George Gregoriou aka LGR's Kokis, Nikos Savvides, Giorgos Yerasimos, and Anna Sopiadou who is coming all the way from Greece will be entertaining us on the night.
♫ ♪
Join us at the Cypriot Community Centre, Earlham Grove, Wood Green, London, N22 5HJ.
♫ ♪
Admission £20, with souvlakia included.
For more information and tickets please call London Greek Radio on 0208 349 6950!
♫ ♪
In 2019, our time has also been spent putting together events, such as this one, where all members of our community could come and celebrate our culture together.
We look forward to seeing you all there.
This event is sponsored by Aspris & Son, wine, beer and spirits merchants; Hellenic Bakery and Hellenic Gourmet; Sarrani, experts in property insurance repairs; Varosi Lettings and Estates, with guaranteed rental scheme.
Article written by London Greek Radio