LGR'S 30TH ANNIVERSARY DINNER & DANCE WITH STELIOS CHIOTIS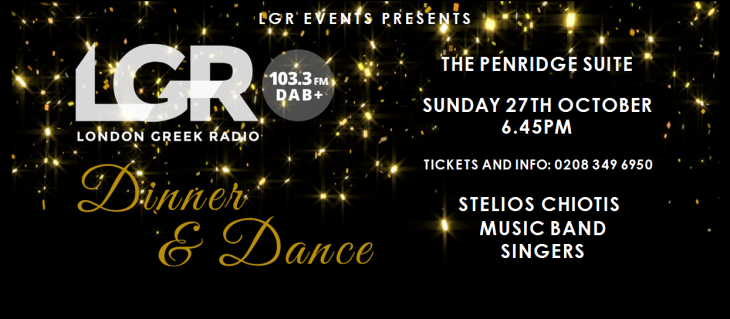 London Greek Radio are excited to announce that legendary Cypriot singer Stelios Chiotis will be performing live at The Penridge Suite on Sunday 27th October 2019.
Join us for our annual dinner & dance featuring a live performance by Stelios Chiotis. Including music band with George Georgiou-Lykos on keyboard, Tony Phirippis on drums, and Kitsos on the bouzouki.
The line-up of singers includes Alexia Hioti, George Gerasimos and rising star George Loizou.
There will also be a live performance by a surprise special guest.
You're invited to join us to celebrate our 30-year anniversary of broadcasting with good food, good music, fun, and dance!
Events like this offer the chance for our station to come together with the community and enjoy a fabulous evening. Moreover, through these events, we are able to renew and build a good relationship with both our listeners and the companies which work alongside us.
In 2019, our time has also been spent putting together events, such as this one, where all members of our community could come and celebrate our culture together.
Join us to celebrate our 30th Birthday broadcasting to you since 1989.
It's a night not to be missed!
Address: The Penridge Suite, 470 Bowes Road, Arnos Grove, London N11 1NL.
Doors open at 6.45pm, dinner will be served at 7.30pm.
Delicious 3 course meal and live entertainment.
Tickets at £35-£40. For tickets & more information call London Greek Radio on 0208 349 6950.
Tickets are expected to sell fast, so to avoid disappointment, we advise that you secure your place now.
We look forward to seeing you all there.
This event is sponsored by Cyplon Travel in association with Celestyal Cruises, the cruise operator specialised in serving the Greek islands and East Mediterranean; Demos Continental, the 1st authentic Greek and Cypriot grocery store in Palmers Green since 1965; Touch of Greek restaurant, at 170 Station Road, Chingford, which offers stylish food, great cocktails and regular events; & Varosi Lettings and Estates, with guaranteed rental scheme.
Article written by London Greek Radio