LONDON GREEK RADIO PRESENTS… THE LGR BOîTE NIGHT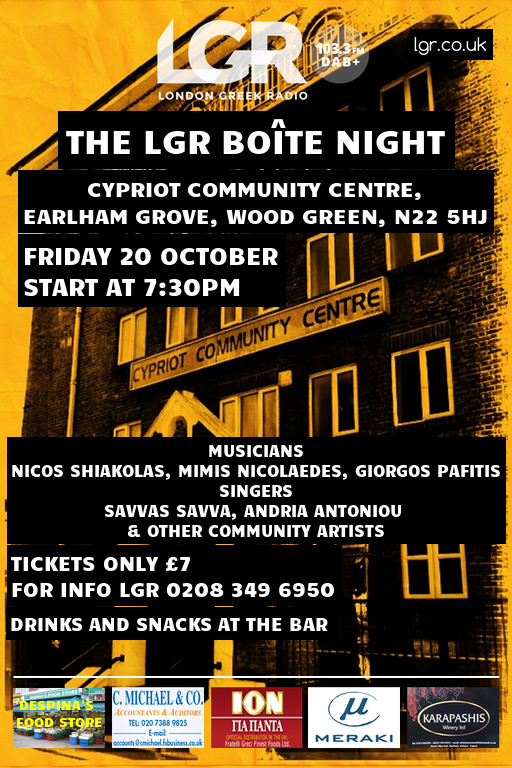 The LGR Boîte Night, on Friday 20th October, is hosting a spectacular evening with a line-up of local community artists.
Enjoy a traditional Boîte styled evening in a chilled and relaxed atmosphere.
Entertaining us on the night are the talented; Nicos Shiakolas, Mimis Nicolaedes, Giorgos Pafitis, Savvas Savva, Andria Antoniou & other community artists.
Join us in the bar of the Cypriot Community Centre, Earlham Grove, Wood Green. Let's have a drink and listen to the live music and have an amazing evening. You can even sing along too and really let your hair down.
There will be drinks and snacks available at the bar.
This will be an unforgettable night with our dearest London Greek Radio audience.
Tickets only £7.
Doors will open at 7:30 pm.
For more information and tickets please call LGR on 0208 349 6950
We look forward to seeing you all there.
This event is sponsored by: Despina's Food Store, C.Michael Accountants & Bookkeepers, Fratelli Greci Finest Foods, exclusive distributors of ION chocolate products and Zagori Mineral Water in the UK, Meraki Grill and Ambeli Ltd, exclusive distributors of Karapashis Winery.
Article written by London Greek Radio