The Brunswick Centre in Bloomsbury is "going Greek" on Thursday 21st June, from 6 pm to 10 pm for a totally Greek-style event completely FREE!
Along with an appetising Greek barbecue for you to enjoy FREE of charge, there will also be the opportunity to sample the traditional Greek sweet 'Loukoumades' and wash it all down with FREE drinks, while you admire a spot of plate smashing and a fabulous line-up of traditional entertainment!
Traditional Greek dance performances by Figoura School of Dance and The Elite Greek Dancers; performances will include the Datcha dance, the Syrtos dance with breaking of the kouza, Zorba's hasapiko / serviko – where audience participation is invited for the finale, the spectacular glasses on the head dance, the Zeimbekiko dance with plate smashing, the table balanced in the mouth dance and the belly dance 'Horon Tis Jilias' which again, you are invited to join in.
The event will be brought to life with music from Diastello – a fantastic 6 piece band playing instruments such as Bouzouki, Violin, Pithkiavlin and Saxophone.
Plus… The amazing Ageliki Darra, Christos Avramidis and Thaleia Oikonomou, all of Elysée Restaurant, will be belting out their vocals on the night.
Singers Mixalis Theodosiou and Elizabeth Chapman will be showcasing their latest singles.
Bouzouki players Pavlos "The Duke" Doukanaris and Marios Lazari performing select bouzouki solos backed by Diastello, while the legendary Costas Rialias will perform two pieces with Themis.
Tickets not required. All you need to do is just pop along to The Brunswick in the heart of Bloomsbury.
You will find The Brunswick just over the road from Russell Square tube station, between Marchmont Street, Bernard Street and Brunswick Square and only a short walk away from the British Museum.
Nearest tube stations are Kings Cross, Russell Square and Euston. With catering by Apollo Restaurant. Go Greek – a FREE event, whilst stocks last! From 6 pm until 10 pm on Thursday 21st June.
London Greek Radio is proud to support the #GoGreek event.
See you there!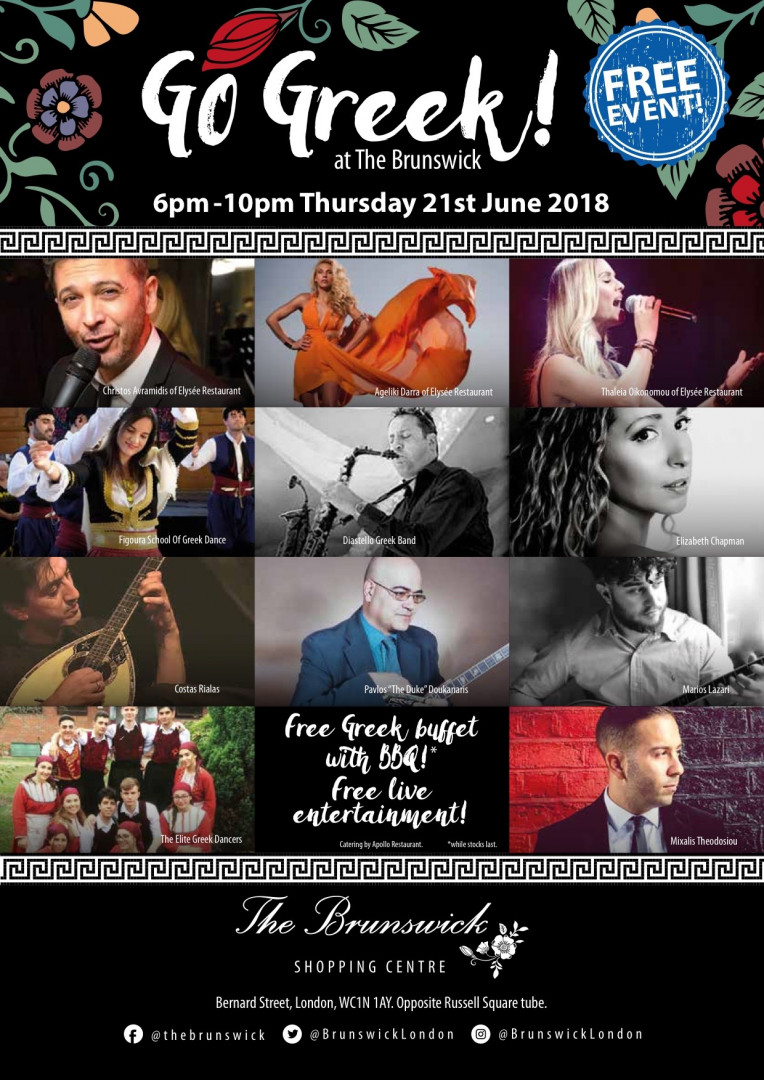 Article written by