Young UK Cypriot Talia Tosun was diagnosed with Acute Lymphoblastic Leukaemia, a type of blood cancer, in May. Unfortunately, after undergoing unsuccessful chemotherapy, she now needs a stem cell transplant.
The best possible match for Talia would be from someone of Cypriot, Turkish, Greek or Middle Eastern descent, but finding a donor has proved difficult since there is currently a huge lack of black, Asian or minority ethnic donors on the Anthony Nolan register.
For someone with blood cancer, a stem cell transplant could be their last chance of survival. Your support could help find their matching stem cell donor and give Talia a second chance of life.
Could you be a match for Talia?
Aged between 16-30
In good health
Turkish Cypriot, Greek Cypriot, Turkish or Middle-Eastern
Living in the UK
Fit the criteria? What happens next…
Sign up to the Anthony Nolan register – www.anthonynolan.org – you'll be sent a swab pack in the post. Simply swab both inner cheeks and send back.
If you're a match, they'll be in touch to verify whether you're healthy and happy to proceed
90% of donors have their stem cells collected through the bloodstream in a simple process called peripheral blood stem cell (PBSC) collection.
Only 10% of donors have their stem cells collected via the bone marrow itself. There are myths about this being a painful procedure, but it is mostly performed under general anaesthetic.
Someone out there – maybe you, maybe one of your friends or family members – could be a full match. Please consider registering with Anthony Nolan as a bone marrow donor! You could save a life.
To spread the word and find out more, please visit HERE
#SwabForTalia
Please join us in the Amber Rooms at Regency Banqueting Suite N17 6UR on Monday 14th October between 10am and 5pm.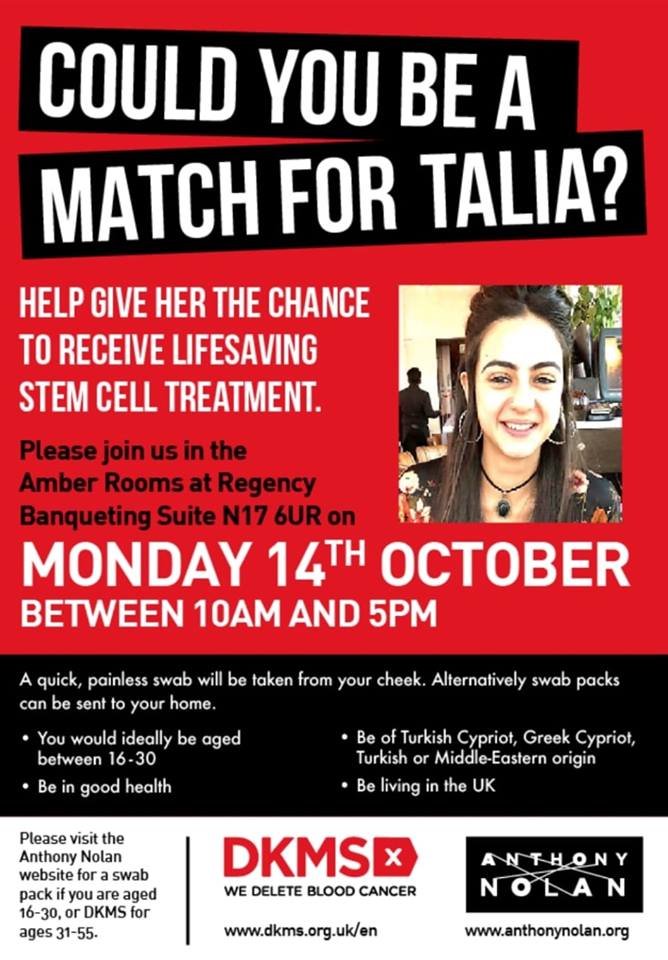 Article written by London Greek Radio