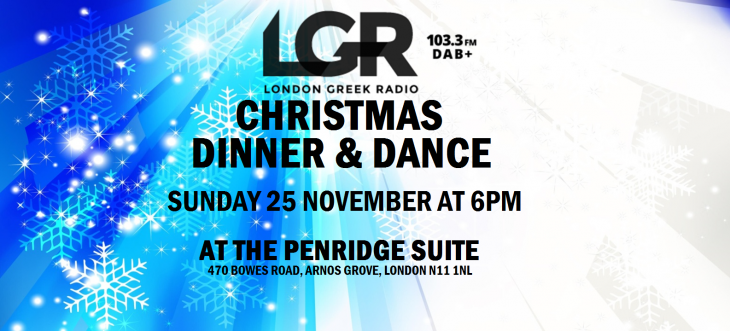 The Management and Staff of London Greek Radio would like to invite you to their pre-Christmas Dinner & Dance, 2018. The festive season kicks-off with live music and food on Sunday 25 November at 6 pm. We are also excited to announce entertainment for this evening includes the renowned Cypriot singer Konstantina, for a 1-night exclusive performance. Not to mention live music by Elizabeth Chapman, George Gregoriou on bouzouki, Nikos Savvides on guitar and Giannakis on the keyboard.
Events like this offer the chance for our station to come together with the community and enjoy a fabulous evening. Moreover, through these events, we are able to renew and build a good relationship with both our listeners and the companies which work alongside us.
In 2018, our time has also been spent putting together events, such as this one, where all members of our community could come and celebrate our culture together.
Join us at The Penridge Suite, 470 Bowes Road, Arnos Grove, London N11 1NL. Doors open at 6pm, dinner will be served at 6:45pm.
Tickets are £35 & £40. For more information and Tickets please call London Greek Radio on 0208 349 6950!
We look forward to seeing you all there.
This event is sponsored by:
A.C.B.O Accountants in North London Business Park;
Barry Pylio – of Food Lovers Cooking Show;
Property Centre – Property, investment & management in Southgate & Bayswater;
Raphaels Bakery & Patisserie in Cockfosters;
S. Aspris & Son, wine, beer & spirit merchant;
SIX PAYMENT SERVICES a member of G.A.P. Vasilopoulos Group, the new safe payment solution;
The Highland Angus Steak House in Southgate;
Article written by London Greek Radio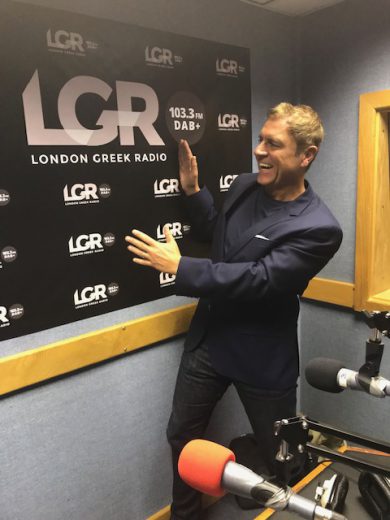 Experienced London estate agent, Karl Knipe, with over 30 years' experience in the industry, is hosting the LGR's series, "The Property Show." Karl, partner of Kings Group (15 branches across North London, East London, Hertfordshire, and Essex), discuss a variety of issues each month, ranging from house prices and Brexit, to stamp duty, and the buy-to-let market, as well as, wealth management. Karl is joined by experts of various sectors in the industry.
Our specialist guests in the seventh one-hour episode;
Stuart Mackay – Kings Group
Stuart has been with the Kings Group since 2007. During these 11 years, he worked predominantly in the Edmonton area and has become as synonymous with Edmonton as, The Green itself….! In 2018 Stuart was nominated for an individual award for Customer Service at the prestigious ESTAS (Estate Agent of the Year Awards)!
Philip Waterfield – Strettons Chartered Surveyors
Philip is a Director of Strettons, a well-established north-east London based firm of Chartered Surveyors and Auctioneers. He has been with the firm for over 30 years, he first debuted on the auction rostrum in 1994. Philip has been running the auction team for the past 10 years, and overseas the sale of about £80 million property a year, comprising a wide range of land and buildings in London and around the UK, and sometimes further afield, including Cyprus where Strettons have held several auctions.
Stuart Collar-Brown – Pattinson Auctions
Stuart is a Business Development Manager at Pattinsons, the UK's fastest growing online auctioneer. He has been with the firm since June 2018, he works in property auctions for the past 11 years in London, the South East, and Bath. Stuart has been involved in the sale of over 3,000 auction lots, across the length and breadth of the UK, including public toilets and a country mansion – and everything in between!
Paul Cacciatore – Conveyancing Consultant at Boulter & Company Solicitors
                                                        Wednesday 7th November 2018 at 7:00 pm  
                                                                        DON'T MISS IT! CALL IN
Article written by London Greek Radio

On Monday 31st December London Greek Radio are hosting NEW YEARS EVE at the Country Club Trent Park in Oakwood.
♫ ♪
Join us for the party of the festive season, featuring DJ Magis on the decks and live musical entertainment by Greek singer Mixalis Theodosiou.
Mixalis is expected to fire-up the atmosphere for what is said to be one of the biggest live Greek parties of the year.
♫ ♪
DJ Magis will be mixing Greek & English hits, all night long. Fusing all the best Modern Laika, Greek Club, Greek Classics and Zeimbekika with all the biggest English hits of the decade.
♫ ♪
For a limited time only early bird tickets will be available for £20. Once these sell out, standard tickets will be available for £25. For table packages please contact Vassoula at London Greek Radio on: 0208 349 6963.
♫ ♪
Event tickets are available to purchase below. Or to avoid paying the online booking fee, tickets can also be purchased over the phone by calling LGR on 0208 349 6963.
Ticket sales powered by Skiddle
Article written by London Greek Radio