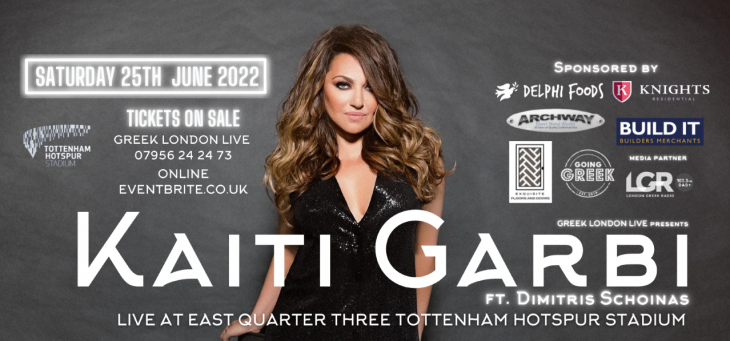 Greek singer Kaiti Garbi live in London on Saturday 25th June 2022.
Enjoy three decades of Greek music in just one night as Athens comes to London and for the first-time-ever at the iconic Tottenham Hotspur Stadium (East Quarter Level Three).
Kaiti Garbi LIVE with her band, together with Dimitris Schoinas. Another unique Greek event brought to you by Greek London Live!
This event is sponsored by Delphi Foods, Knights Residential, Archway Sheet Metal Works, Going Greek, Exquisite Floors & Doors, and Build It Builders Merchants.
Supported by Kounnis & Partners Chartered Accountants.
Official Media Partner is London Greek Radio 103.3 FM.
For ticket info and VIP table reservations call Greek London Live on 07956242473.
Tiered table reservations, ranging from £60 – £120 per guest, plus booking fee* online at eventbrite.co.uk/e/kaiti-garbi-live-tickets
Kaiti Garbi is one of the most established, beloved, award-winning and timeless Greek singers. Her career has spanned over 30 years with over 1.5 million records sold in Greece and abroad, while her discography is marked by several multi-platinum, platinum and gold releases, including Arhizo Polemo (1996) and Evaisthisies (1997), two of the best-selling albums of the decade. Garbi represented Greece in the annual Eurovision Song Contest in 1993 with the song "Ellada, Hora Tou Fotos", taking ninth place. She later struck her biggest commercial success with To Kati (2000) in terms of unit sales. Over the years, Garbi has won 11 Pop Corn Music Awards, including three for Album of the Year, and one Arion Music Award. On 14 March 2010, Alpha TV ranked her among the top-certified female artists in Greece's phonographic era (since 1960).
Among her countless and timeleass hits are; "Pes To M Ena Fili", "Xamena", "Tha Melagxoliso", "Viastika", "Atofio Xrysafi", "Nai, Iparho Ego", "Evaisthisies", "Ierosylia", "Tou Fegariou Anapnoes", "Pes To M Ena Fili", "Ksypolyti Xorevo", "Min Me Sigkrinis", "To Lathos Mou", "Arhizo Polemo", "Apla Ta Pragmata", "Na Pernas", "Galazio Kai Lefko", "Otan Se Xreiazomai", "Esena Mono", "Doro Theou", "To Kati", "Perasmena Ksehasmena", "Anemodarmena Ipsi", "Mia Fora Kai Enan Kairo", "Eho Sta Matia Ourano", "Ante Geia", "Aspro I Mauro", "Ti Theloune Ta Matia Sou", "Pos Allazei O Kairos", "Kainourgia Ego", "Aponomi Dikaiosynis", "Agkyres", "Spase Tous Deiktes Tou Rologiou", "Ilios Den Vgainei An Den Peis Kalimera" and "Kormia Hamena".
Get your tickets now at eventbrite.co.uk/e/kaiti-garbi-live-tickets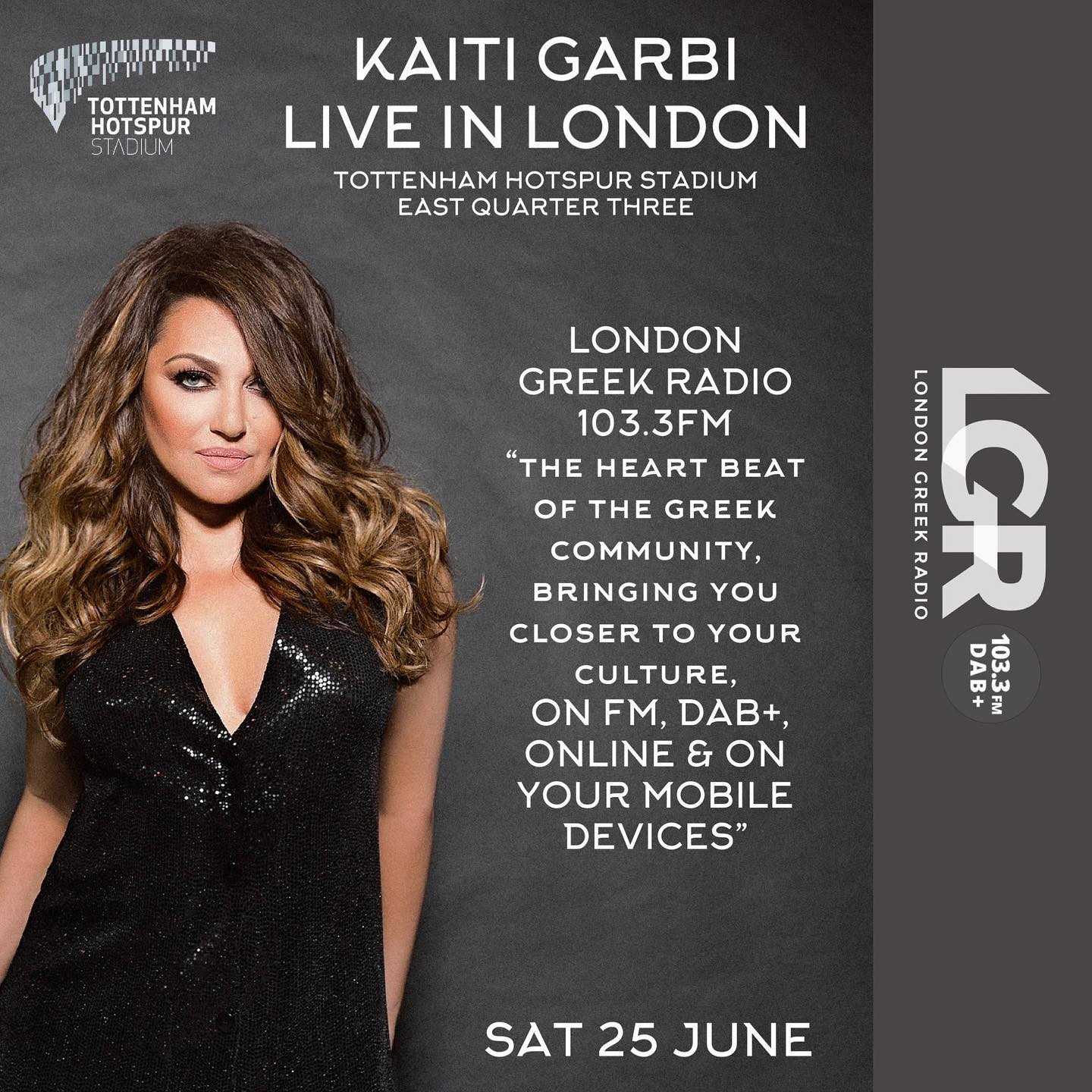 Article written by London Greek Radio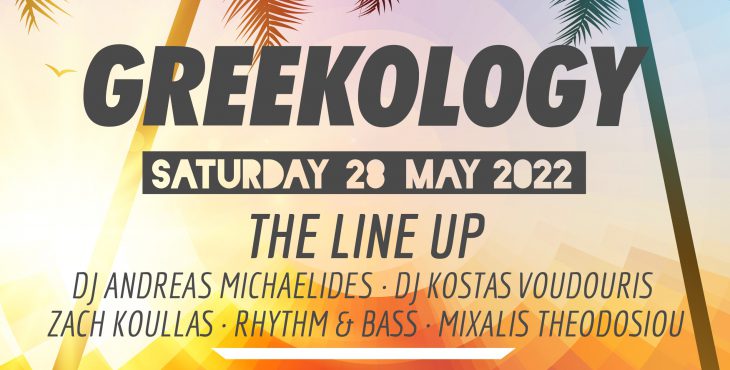 We know, it's been a while since an LGR Club Night… 
And it's been a tough and challenging couple of years for all of us, but LGR club-nights are back! 
Yep, and to celebrate 10 years of LGR Greekology, the one event that you have to be at this year happens at The Country Club, Trent Park N14 on Saturday 28th May!
Our very own DJ's Andreas Michaelides and Kostas Voudouris alone with confirmed artist: Mixalis Theodosiou, Zach Koullas and Drummers Rhythm and Bass will be live in person from 10pm 'til late on what's expected to be a night to remember!
So head over right now to eventbrite.com/e/greekology-at-the-country-club-trent-park-tickets for your tickets whilst stocks last! 
Don't miss the biggest return to the dance floor since… the last one!
LGR's Greekology Club Nights, The Country Club, Trent Park N14 4UW on Saturday 28th May! 
This event is sponsored by Aspris & Son, Cypriot Community Centre, Funland at the Brunswick Centre, next to Russell Square tube, Uncle Tony's Taverna, Nicholas & Co. Chartered Surveyors.
eventbrite.com/e/greekology-at-the-country-club-trent-park-tickets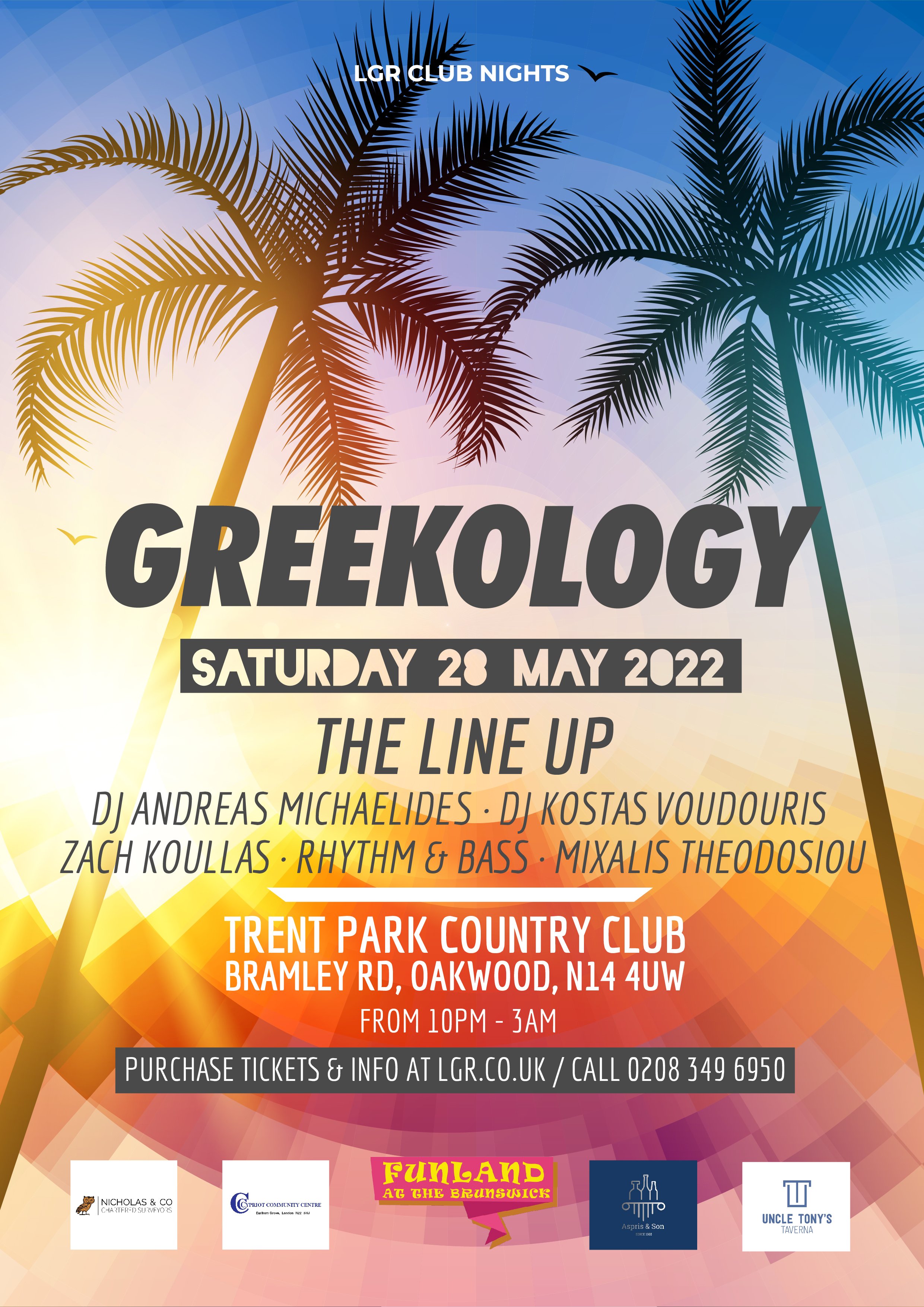 Article written by LGR Club Nights