LGR EVENTS PRESENTS AN EVENING OF CLASSIC AND MODERN LAIKA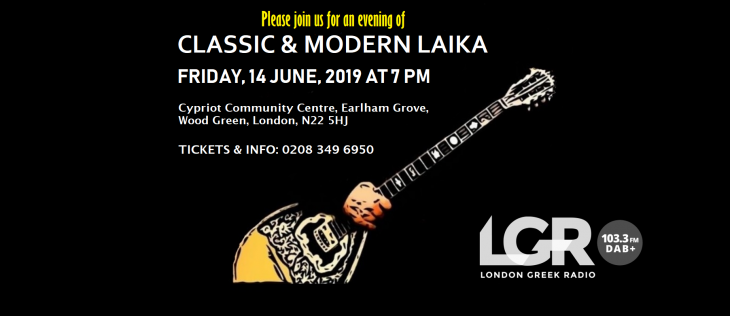 London Greek Radio [LGR] Events Presents An Evening of Classic and Modern Laika on Friday 14th June 2019, at the Cypriot Community Centre. LGR line-up featuring George Gregoriou (Kokis), Nikos Savvides, Giorgios Yerasimos, Elizabeth Chapman and Katerina Neocleous. This is the 30th anniversary since obtaining our FM license, what better way to celebrate than with local acts.
♫ ♪
Join us at the Cypriot Community Centre, Earlham Grove, Wood Green, N22 5HJ.
♫ ♪
Admission £20, with mini meze included.
Drinks & refreshments available to purchase at low prices.
For more information and tickets please call London Greek Radio on 0208 349 6950!
♫ ♪
In 2019, our time has also been spent putting together events, such as this one, where all members of our community could come and celebrate our culture together. Live music, and dancing, entertainment in a friendly atmosphere.
We look forward to seeing you all there.
This event is sponsored by Auto Deutsche, German car specialist in Camden Town, & Varosi Lettings and Estates, with guaranteed rental scheme.
Article written by London Greek Radio