THE ACTORS THEATRE PRESENTS THE CHARLIEZ COMEDY & VARIETY SHOW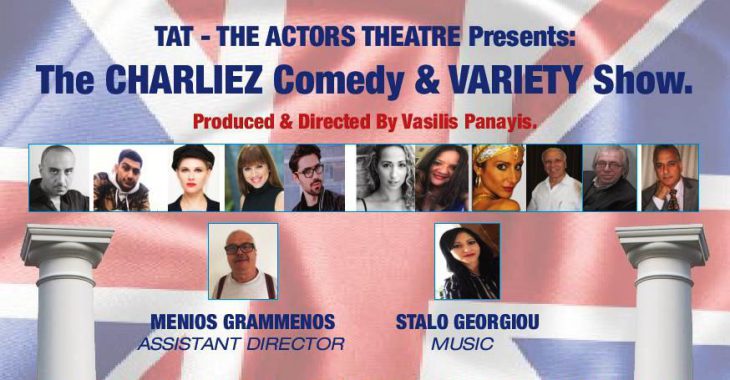 TAT – The Actors Theatre Presents The Charliez Comedy & Variety Show, produced and directed by Vasilis Panayis.
Menios Grammenos (Assistant Director), Stalo Georgiou (music)
With Andy Francesco, Stevie Georgiou, Eleftheria Tsartzaraki, Vasoula Christodoulou, Markos Kalogerakis, Elizabeth Chapman, Katerina Barotsaki, Ellie Kyriakou-Samsara, Fivos Alexandrou, George Yerasimos & Vasilis Panayis.
They will make you laugh all the way through.
For Tickets £12.50 & £14.50 contact the Box Office 020 8807 6680.
Dugdale Centre, Enfield Town, Thomas Hardy House, 39 London Road, Enfield, Middlesex, EN2 6DS.
November 2018, 21st, 22nd, 23rd, at 7:45pm, & November Saturday 24th 2018 at 2:45pm & 7:45pm.
This event is brought to you by Parikiaki Newspaper, Anastasia Lodge & Autumn Gardens, Hellenic TV, and Georgos Yerasimos
Article written by London Greek Radio